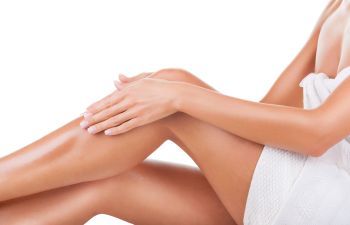 Laser hair removal is quickly becoming one of the most popular aesthetic treatments for men and women of all ages to rid themselves of unwanted body hair. It is an excellent alternative to shaving, waxing and other inconvenient hair removal options. The procedure involves using pulses of laser light to kill hair follicles without damaging your skin. This can permanently stop hair growth in the treated area, creating smooth, radiant and hairless skin.
At The K Spa, we can help to eliminate your unwanted body hair using the most cutting-edge technologies available. Interestingly, there are many secret benefits of laser hair removal. Let's look at some of those benefits and see if this treatment is right for you.
A Better Solution
Waxing might seem better at first, but it's a painful and messy process that needs to be repeated over and over again. Meanwhile, when you shave with razors, it's easy to cut your skin and cause bleeding, and you risk ingrown hairs and itchy regrowth. Ingrown hairs are caused when shaved hairs grow back into the skin, causing inflammation, pain and bumps in the area. They are common in those with curly or coarse hair. If ingrown hairs are a problem, laser hair removal might be right for you.
Laser hair removal is undoubtedly the most efficient method with minimal pain. You may feel a slight snap on your skin, but any discomfort you feel will not linger.
Save the Planet
Maybe not single-handed, but yes, laser hair removal can help save the planet. Americans throw away around two billion razors annually. That's two billion plastic handles, ten billion razor blades plus all that plastic packaging that comes with each razor. Aside from the massive carbon footprint of manufacturing, shipping and delivering those products, all the billions of used razors filling up landfills take hundreds of years to decompose.
When you look into the harmful effect shaving products have on the environment, it quickly becomes apparent why laser hair removal is an eco-friendly alternative.
No Downtime
As a relatively painless procedure, laser hair removal will not affect your daily life. In addition, there is no downtime after each treatment, meaning you can go about your life straight after the session is over.
Laser Hair Removal at The K Spa
Our laser specialists utilize several different laser treatments and are experts in their application. We understand that each patient's skin and hair growth are unique. Therefore, as with all our treatments, your laser hair removal will be personalized based on your skin type and hair growth.
Are you to learn more about laser hair removal or are ready to begin your treatment? In that case, our professional Atlanta medical spa staff will instruct you on preparing for your session when you book your appointment.
Posted on behalf of The K Spa
371 East Paces Ferry Rd, Suite 850
Atlanta, GA 30305
Phone: (404) 549-3503