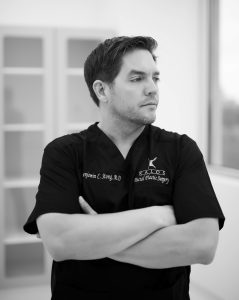 The K Spa was created with a strong vision to provide a place where the unique aesthetic concerns and goals of our patients are paramount. The K Spa allows patients to take advantage of top quality, minimally invasive cosmetic treatments offered by an elite plastic surgeon. Our patient-centered approach and distinguished cosmetic training is evident throughout all of our non-surgical treatments, whether you are here to erase wrinkles, reduce fat, tighten skin or restore hair growth. From the moment you walk in our doors until your final goals are achieved, we will go above and beyond to ensure you feel pampered and rejuvenated. With services backed by the latest products and technology in the industry and performed by one of the country's leading facial plastic surgeons, our patients enjoy a highly rewarding experience and superior, natural-looking results.
The K Spa is an extension of Kalos Facial Plastic Surgery in Atlanta. Both our surgery center and medical day spa were founded by Dr. Benjamin Stong, an experienced and talented dual board certified facial plastic surgeon. His distinguished skill and passion for patient-centered care make The K Spa a truly unique and highly-valued medical day spa.
Unlike many med spa facilities, our services are performed or overseen by a dual board certified facial plastic surgeon and licensed medical aesthetician. This ensures our procedures are carried out with the highest level of precision and safety for our patients, which ultimately creates superior results. From state-of-the-art laser treatments and platelet rich plasma hair restoration to bruise-free injectables and invigorating facials, The K Spa offers everything you need to rejuvenate your appearance and renew your confidence, including
At The K Spa, we acknowledge the growing demand for high-quality, minimally invasive cosmetic procedures that require little to no downtime. Whether we are brightening your complexion for a big event or addressing the effects of aging, we are confident that we can provide the standard of care you need and deserve. To learn more about how and why The K Spa was created or about the expansive menu of services that we offer, please contact us today. We look forward to meeting you and addressing your unique needs and concerns.
* Disclaimer: These Are Actual Results For Patients Of Dr. Benjamin Stong. Plastic & Cosmetic Surgery Results Can Vary Between Patients.