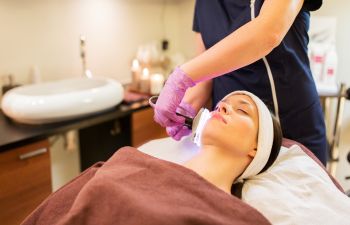 It is a wonderful feeling to head to the spa and receive a day of pampering. It is a common misconception that the treatments you receive at a regular day spa are the same as those you receive at a medical spa. They are equipped for different procedures, and the results from a day spa will not give you any lasting effects. Under the supervision of a qualified plastic surgeon, medical spas will provide you with longer-lasting results and more treatment options. Which spa you choose ultimately depends on what you want from the experience.
Why Choose a Cosmetic Day Spa?
Day spas are wonderful for self-care. You can pamper yourself, unwind and de-stress. Cosmetic day spa staff can treat the uppermost layer of your skin, called the epidermis. A full day spa package often includes a massage, a facial exfoliation, face mask application and serums. Serums and lotions temporarily plump up your skin through hydration. Unfortunately, these effects may not even last through to the next day.
Anything involving lasers, injections or layers beneath the epidermis requires extensive training and should only be performed by highly qualified medical experts.
The Benefits of Cosmetic Medical Spas
If your idea of self-care is long-lasting results and true physical changes, a cosmetic medical spa is the right place for you. Under the guidance of trained medical professionals, deeper skin layers can be safely treated, and they can perform cosmetic enhancements.
Cosmetic Medical Spas are just that—medical facilities—and have regulated professionals performing your treatments under conditions expected in medical clinics. Certified standards of environmental cleanliness and sterilization practices ensure your experience is safe.
Long-Lasting Results with Specialized Procedures
Certain procedures should only be treated under the guidance of a plastic surgeon and their qualified medical staff. They have the proper skills to provide you with the best outcome under the safest conditions. Some treatments a cosmetic medical spa can provide are:
If you are interested in safe, long-lasting results for aging or skin conditions, contact The K Spa today for a consultation.
Posted on behalf of The K Spa
371 East Paces Ferry Rd, Suite 850
Atlanta, GA 30305
Phone: (404) 549-3503