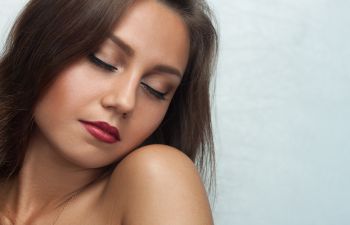 Are you looking for a way to enhance the appearance of your face? Perhaps you've longed for dark, defined eyelashes and eyebrows. Maybe you're searching for a way to simplify your morning routine. Whatever the case, eyelash and eyebrow tinting is a non-medical, cosmetic treatment that accentuates an individual's natural beauty. As an exciting alternative to traditional make-up found in cosmetic shops, cosmetic tinting gives individuals the freedom to forego eyebrow pencils and shadows, as well as mascara.
From an aesthetic perspective, eyelash tinting provides a darkening effect that emphasizes the lashes—minus the mess of mascara. Thus, whether individuals are sweating, swimming or waking up in the morning, their lashes are always on point. Additionally, there's no need to fret over smudging, clumping or flaking. Yet, for women that are allergic to the chemicals found in mascara, or for those that wear contact lenses, eyelash tinting is even more of a welcome solution to conventional products.
Like eyelash tinting, eyebrow tinting gives the appearance of having "a touch of makeup" on, even when a person does not. Yet, when combined, eyelash and eyebrow tinting opens up the eyes, creating a refreshed and naturally defined appearance.
Professional, Artistic Cosmetic Tinting At The K Spa
Have you spent time in front of the mirror trying to pencil in the perfect eyebrow? Have you spent extra money on high-end mascara that will give you the jet-black lashes you've always wanted? Maybe it's time to consider professional cosmetic tinting for your eyelashes and eyebrows.
Dr. Benjamin Stong is a dual-board certified facial plastic surgeon and founder of The K Spa in Atlanta. Having demonstrated elite artistry across numerous procedures and treatments for the face, Dr. Stong seeks perfection when it comes to tinting a patient's eyebrows and eyelashes. Not only is it about making the eyebrows and eyelashes darker—it's about accentuating a patient's unique facial symmetry and transforming their eyebrows and lashes from ordinary to elegant.
Call The K Spa today to schedule an appointment for professional, artistic cosmetic tinting directed by world-renowned facial plastic surgeon, Dr. Stong.
Posted on behalf of The K Spa
371 East Paces Ferry Rd, Suite 850
Atlanta, GA 30305
Phone: (404) 549-3503