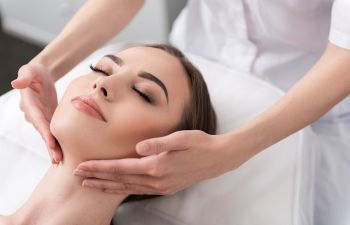 Warm weather is almost here! But for now, we are still spending time indoors, and the dry, heated air can wreak havoc on skin. As we age, this dryness can take the form of wrinkles and sallow skin. Winter is definitely a stressful time on both body and mind. Help fight the winter blahs with a relaxing Hydro-infusion Facial at The K Spa. The Hydro-infusion Facial will give your skin a much needed boost during this unpredictable weather.
What is a Hydro-infusion Facial?
The Hydro-infusion Facial is a deep nourishing, three-step treatment that has many benefits. It can help minimize fine lines and wrinkles, remove blackheads and other impurities and revitalize your skin by restoring a healthy moisture balance.
Cleansing and Exfoliation. Why is it important?
We all wash our faces, but it is difficult to remove dead skin cells, makeup and other impurities on our own. That's where deep cleaning and exfoliation come into play. We are all exposed to secondhand smoke, car exhaust and other pollutants that can become trapped in our skin.  Cleansing and exfoliation, as the first step in the Hydro-infusion Facial, removes these pollutants and prepares your skin for hydration.
Hydration is the Key
Now that the skin has been cleansed of impurities, a serum is applied and suction is used to remove all of the remaining dead skin cells, oils and other detritus left behind after exfoliation. Hydrating serum is then added to skin that is ready for moisture to be delivered. Skin begins to glow as it receives much needed hydration, which will give your face a younger, healthier appearance.
The Hydro-infusion Facial is a wonderful way to heal and protect your skin, and will give an overall surge of confidence as you look forward to the warmer days of spring.
For more information on the Hydro-infusion Facial, or any of the other services we provide, please contact us today to schedule a visit.
Posted on behalf of The K Spa
371 East Paces Ferry Rd, Suite 850
Atlanta, GA 30305
Phone: (404) 549-3503