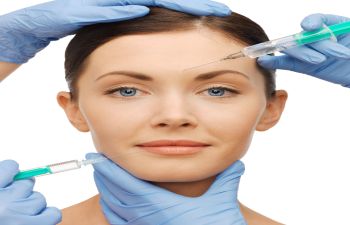 With the power to plump thinning lips, enhance cheekbones, smooth smile lines and erase under-eye circles, Very Well Health explains that dermal fillers work all sorts of magic when it comes to the face. As such, it's no wonder that interest in today's facial fillers is at an all-time high. Even so, doctors warn patients against approaching the concept with the wrong attitude, and this includes not making a risky bargain with your face. Renowned facial plastic and reconstructive surgeon, Dr. Ben Stong invites individuals throughout Atlanta and surrounding communities to experience top quality, minimally invasive cosmetic treatments at his medical day spa—The K Spa. Patients of The K Spa benefit from the latest technologies and dermal fillers performed or overseen by a dual board certified facial plastic surgeon and licensed medical esthetician.
Consider the following facial fillers offered by The K Spa:
Juvederm (Volbella, Vollure XC, Voluma)
As a family of fillers containing Hyaluronic Acid (HA), Juvederm can be used in different areas of the face, from the cheeks (Juvederm Voluma XC) to "parentheses" lines and nasolabial folds around the mouth. For pouty lips, Juvederm Volbella adds volume, yet is also injected to soften vertical lip lines.
Belotero
A versatile dermal and facial filler, Belotero is HA based, and is ideal for smoothing and filling wrinkles, lip augmentation, skin rehydration and restoring facial volume.
Kybella
FDA approved to target fat beneath the chin (submental fullness), Kybella utilizes a synthetic form of deoxycholic acid to eliminate fat cells, which are then metabolized by the body.
Restylane (Defyne, Lyft, Refyne)
Like Juvederm, Restylane is a family of facial fillers designed to treat various, sometimes overlapping problems. Restylane Refyne treats mild to moderate line and wrinkles, while Restylane Defyne is reserved for more severe lines and wrinkles. In turn, Restylane Lyft is a thicker gel injectable used to smooth deep wrinkle lines and folds, as well as adding volume to cheeks.
Sculptra
Used to add volume to sunken areas of the cheeks and face, as well as increase skin thickness, Sculptra Aesthetic contains synthetic compound that promotes the production of collagen.
Given the many options in dermal and facial fillers at The K Spa, Dr. Stong is able to customize treatment to create the superior result that patients deserve. To schedule a consultation, call today!
Posted on behalf of The K Spa
371 East Paces Ferry Rd, Suite 850
Atlanta, GA 30305
Phone: (404) 549-3503