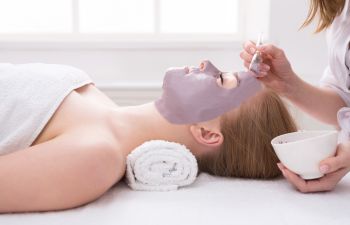 Winter is here, and that means colder temperatures and drier air. Winter also means shorter days, leaving many of us feeling blue. One way to combat these winter blahs is with a visit to The K Spa for med spa services.
Get Rid of Dull Skin with Dermaplaning
Harsh winter weather can leave your skin looking dull and flat. Dermaplaning can restore your glow and make even the coldest winter days seem like summer. Dermaplaning removes dead skin cells and fine hair growth, revealing the healthier, glowing skin underneath.
Relax with a Facial
Winter comes with its own type of stress. Between the holidays, lack of sunshine and limited outdoor time, it's easy to feel tense. A facial is a wonderful way to treat both your skin and your stress levels. A K Spa facial is specially formulated to meet your personal skincare needs, will remove toxins and clean pores and leave your skin feeling smoother and rejuvenated.
Go Deeper with Hydro-Infusion Facial
For a more intense experience, try a hydro-infusion facial. This facial not only clears away dead skin cells, but can remove blackheads and clear up the clogged pores that lead to acne breakouts. An added bonus is that this facial can help minimize the appearance of fine lines and uneven skin.
Exfoliate with Microdermabrasion
Acne scarring can rob you of self-confidence, and you may feel the need to cover up these imperfections with makeup. Microdermabrasion is an effective tool that can eliminate these scars, revealing brighter, healthier skin.
Pamper Yourself with Waxing
You may think a plastic surgeon's office is a strange place to remove unwanted hair, but it is a perfect solution for your next waxing appointment. Not only will you receive waxing from trained professionals, but you will have access to our skin care products. All the products we use during a waxing appointment are high quality, and you will receive the best care in a comfortable environment.
Winter can be hard on your skin, but a treatment at The K Spa can brighten up even the coldest of days. Call to schedule a consultation today.
Posted on behalf of The K Spa
371 East Paces Ferry Rd, Suite 850
Atlanta, GA 30305
Phone: (404) 549-3503