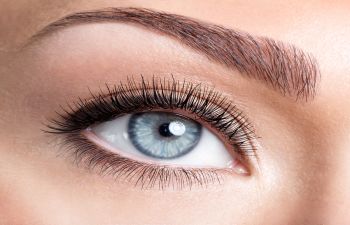 In a 2017 study highlighted by the Daily Mail, the eyes really do have it. In fact, men and women rate a person's eyes more important than any other facial feature. Yet, aging, including lines, wrinkles and volume loss seem to cast a shadow beneath the eyes—literally. To restore the essence of the eyes, many are turning to tear trough rejuvenation using dermal fillers. However, treating the area beneath the eyes is no easy feat. That's why individuals throughout Atlanta and surrounding metropolitan areas turn to double-board certified facial plastic surgeon Dr. Benjamin Stong at The K Spa for excellence in non-surgical tear trough treatments.
Dr. Stong takes advantage of the unique properties found in Juvederm, including its gel-like structure, to provide patients with a sophisticated treatment for tear troughs. Patients with dark circles under the eyes or those with a bony, sunken appearance due to aging can benefit from a layer of hyaluronic acid that acts as a cushion between the epidermis and the dark pigment. The filler hides the bony structure that has become more visible with aging and volume loss, and even fills in the wrinkles associated with skin laxity. Moreoever, The Dermatologist online forum reports that an extra layer of hyaluronic acid diminishes the light absorbing concavity under the eyes that creates the shadow.
While wrinkles and hollowing beneath the eyes becomes more noticeable around age 35, there is a rise in the number of 20-somethings that are turning to fillers to rejuvenate the appearance of tired or stressed eyes. Without question, the ease and convenience of tear trough treatment, not to mention zero downtime, contributes to its growing popularity. Even so, cosmetic and plastic surgeons urge patients to do their research. First, an individual must be a good candidate. Second, if not administered properly, injections can produce a puffy, inflated appearance.
Welcome To The K Spa
As an extension of the prestigious Kalos Facial Plastic Surgery in Atlanta, The K Spa is a medical day spa founded by Dr. Benjamin Stong. For patients looking for unique aesthetic treatments under the direction of a board certified facial plastic surgeon, The K Spa is a premier destination for tear trough treatments using Juvederm and other dermal fillers. To schedule a consultation with Dr. Stong, contact The K Spa today.
Posted on behalf of The K Spa
371 East Paces Ferry Rd, Suite 850
Atlanta, GA 30305
Phone: (404) 549-3503