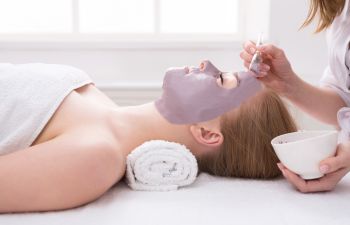 When the world is turned upside down and you feel off center, the stress and tension that you are experiencing can show up in unexpected ways. Too much stress over time can result in fine lines and wrinkles; but even short-term, high-stress days can wreak havoc on your skin. Skin outbreaks as toxins build up can really take a toll on your skin.
The Detrimental Effects of Stress
Stress can cause inflammation, which can show up on your face as an acne breakout or eczema or psoriasis flareup. In fact, any skin condition you may have could flare up as a result of an increase in inflammatory cells in your body.
You may think that weather is the only cause of dry skin, but stress can dry it out also. Adrenaline increases and activates the eccrine glands, producing more sweat. This can lead to dehydration, which will cause your skin to dry out if you do not drink enough water to make up the difference.
Cortisol, along with other hormones, increases when you are under stress. The overload can cause your skin to become more oily, thus playing a part in acne flareups. Sebaceous glands in the skin produce higher levels of oil, and pores can become blocked due to the stimulation of these stress hormones, particularly cortisol.
The K Spa Facial
The professionals at The K Spa offer superior facials. You get to relax and enjoy the pampering provided by our care. You expect only the best with us, and that is what you get. We use top of the line products and the best techniques. Our expertise and experience shows in the amazing results we produce.
The K Spa team does not take a one-size-fits-all approach to skin care. After analyzing the condition of your skin, a treatment plan is created to address your unique skin issues. Our approach leaves you with healthier skin that looks better, feels smoother and gives you a refreshed, rejuvenated appearance.
Relax with us and let your troubles fade into the background. Call The K Spa to schedule an appointment and to learn more about our facials.
Posted on behalf of The K Spa
371 East Paces Ferry Rd, Suite 850
Atlanta, GA 30305
Phone: (404) 549-3503