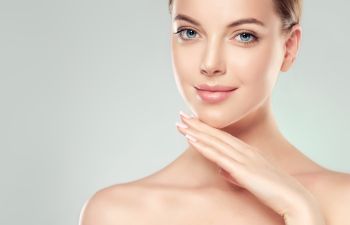 For individuals that are dedicated to diet and exercise, most agree that excess fat under the chin is resistant to any and all efforts at getting rid of it naturally. This has led many to undergo invasive-type surgeries such as liposuction, facelift or a chin lift, requiring weeks of recovery and downtime. Fortunately, Kybella is an FDA approved, minimally invasive facial rejuvenation treatment that permanently treats a double chin. Whether your body naturally stores fat beneath the chin, if genetic factors have caused you to develop "fullness" under the chin, or if aging has resulted in sagging skin tissues along the jawline and chin, Kybella can help you achieve a balanced, youthful look that you'll love.
To better understand how Kybella works, consider its active ingredient—synthetic deoxycholic acid, a naturally occurring molecule that helps break down and absorb dietary fat. When Kybella is injected into the excess fat beneath the chin, it works to destroy fat cells, and the body simply absorbs them. The best part? Once the fat cells are absorbed, they are not able to collect or hold fat. This means that once an individual's aesthetic goals are achieved with Kybella, they will not have to receive treatment again. The results are permanent.
Treatments using Kybella are designed according to a patient's chin profile and their desired results. Thus, the number of sessions varies from person to person. Even so, the average number of treatment sessions is 6. Each injection treatment takes approximately 20 minutes, and sessions are administered one month apart.
Is Kybella Right For Me?
Do you have moderate to severe fat accumulation beneath your chin? Are you looking for a solution to eliminate your double chin without surgery? Kybella could be the right treatment for you.
The K Spa: The Ultimate In Patient-Centered Care
With countless five star reviews, The K Spa is an extension of Kalos Facial Plastic Surgery in Atlanta, founded by dual board certified facial plastic surgeon, Dr. Benjamin Stong. As a unique, medical day spa, The K Spa features an array of minimally invasive and non-surgical fat reduction treatments, including Kybella. While other facilities provide services under the direction of medical support staff, Dr. Stong himself guides all treatments provided at The K Spa. Thus, patients experience the ultimate in patient-centered care, with expert attention to help them obtain the results that they want and deserve.
To schedule a consultation with Dr. Stong, book an appointment at The K Spa today.
Posted on behalf of The K Spa
371 East Paces Ferry Rd, Suite 850
Atlanta, GA 30305
Phone: (404) 549-3503