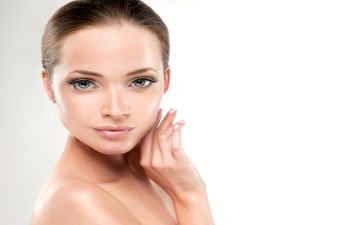 As one of the hottest skin care trends, Microneedling, otherwise known as collagen induction therapy, is a minimally invasive cosmetic treatment that stimulates the body's natural healing capabilities. In essence, hundreds of microscopic perforations are created on the superficial layer of the skin, initiating cell turnover and boosting collagen and elastin production. While the thought of being poked or pricked may sound frightening, there's no need to worry—Microneedling is virtually painless, particularly when performed by an elite, board certified plastic surgeon or trained medical aesthetician. Thus, with extraordinary results and little to no downtime, it's no wonder that Vogue is calling it the next big thing in anti-aging.
While Microneedling is incredibly effective in reducing fine lines and wrinkles, it also provides a preventative component. For instance, as new skin cells are generated, a patient's innate healing mechanisms are set into motion, smoothing fine lines, crow's feet and even deeper wrinkles along the forehead. What's more is that for individuals with noticeable scarring, Microneedling treatments dramatically improve the appearance and texture of skin, with less side effects and downtime when compared to laser therapy. In turn, discoloration from sun damage and/or pigmentation concerns related to Melasma and other conditions show noticeable improvements and glowing skin after a few sessions.
Given its tremendous anti-aging benefits, one may assume that Microneedling is intended for the face only. On the contrary, it can be used to remodel any area of skin that needs repair. This includes areas with acne scarring, stretch marks and even areas of loose skin. There's no doubt—the versatility of Microneedling makes it an exciting treatment for men and women of all ages seeking a simple, yet effective way to restore and rejuvenate their skin.
Microneedling – A Top Choice At The K Spa
An extension of Kalos Facial Plastic Surgery in Atlanta, The K Spa features an expansive menu of top quality, minimally invasive cosmetic treatments and procedures, under the direction of world-renowned plastic surgeon, Dr. Benjamin Stong. As a top choice, Microneedling treatments at The K Spa may serve as the following:
Acne Scarring Treatment
Brown Spots and Hyperpigmentation Treatment
Collagen-Building Wrinkle Treatment
Ethnic Skin Treatment
Platelet-Rich Plasma
Scalp Hair Growth Treatment
When patients come to The K Spa for a Microneedling procedure, their skin is treated with a state of the art, medical grade device for greater precision and less abrasion. Combined with stem cell cytokines for healing and regeneration, skin is protected and revitalized like never before. To meet with Dr. Stong in a confidential consultation to discuss Microneedling treatments, call The K Spa today.
Posted on behalf of The K Spa
371 East Paces Ferry Rd, Suite 850
Atlanta, GA 30305
Phone: (404) 549-3503