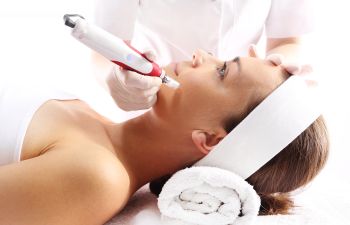 Having gained traction in recent years, Microneedling dates back to the mid-1990's, and provides both immediate and ongoing results. Elle online refers to Microneedling as a multipurpose treatment that improves the look of scars, while also boosting collagen production. Short-term results include radiant, tighter-looking skin that's luminous, while long-term improvements demonstrate an increase of nearly 400% in collagen! At The K Spa in Atlanta, Dr. Benjamin Stong explains that microneedling treatments can be used to elicit some of the same results as laser therapies and deep chemical peels. At his medical spa, Dr. Stong performs microneedling for the following:
Acne Scar Treatment
Brown Spot Treatment
Collagen Building Wrinkle Treatment
Ethnic Skin Treatment
Platelet Rich Plasma
Scalp Hair Growth Treatment
Scar Treatment
To better understand microneedling as a procedure, the technique involves using multiple tiny, sterile needles to puncture the skin. The idea is that by producing "trauma," the derma layer of the skin starts rebuilding collagen. Injuries to the skin also signal the body's own healing mechanisms to repair and rejuvenate the damaged skin. While several treatments are usually recommended for optimal results, the increase in collagen reestablishes the smooth, firm and supple appearance of youthful skin. Individuals may also expect to see diminished lines and wrinkles, scars, stretch marks and a decrease in pore size.
While microneedling is considered safe, there are some risks when it comes to the device used and the experience of the physician. That's why it's important to do your research when deciding where to go for your treatment.
As medical director of The K Spa, Dr. Ben Stong offers direction and oversight for all cosmetic services performed, in conjunction with his distinctive plastic surgery practice in Atlanta. As a dual board certified facial plastic surgeon, Dr. Stong is considered an expert medical resource and industry leader in producing elegant results.
To speak with Dr. Stong regarding microneedling, contact The K Spa today!
Posted on behalf of The K Spa
371 East Paces Ferry Rd, Suite 850
Atlanta, GA 30305
Phone: (404) 549-3503