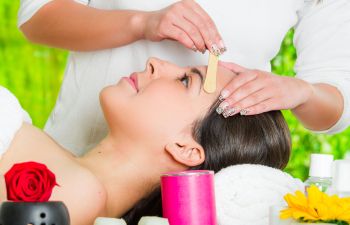 Summer heat have you wanting to stay indoors? Think summer is coming to an end and school is getting ready to start? Never fear The K Spa is open and cool for you. Whether it's to get your eyebrows shaped up or your body ready for summer outdoor activities, it is never too late to come into The K Spa for a waxing session.
Shaving and plucking can be short-term, irritate the skin and be very time-consuming. Waxing is a more convenient and long-term hair removal solution that can last weeks not days.  Waxing can remove large amounts of hair at one time. There are several benefits to waxing over other methods of hair removal.
Long-term hair removal: Waxing pulls the hair from the roots. Over time hair growth will become less, hair softer and eventually may not grow back.
Improves the quality of skin: Waxing removes dry and dead skin cells.
No nicks or cuts: Waxing prevents nicks and cuts possibly leaving scars or any damage to the skin.
Smooth skin: Shaving over sensitive skin could cause skin irritation. Waxing rarely causes skin irritation, rashes or bumps.
Fast and Convenient: Waxing is an easy and fast hair removal process.
There are a few tips to know before and after your waxing session. Gently exfoliate the area you want to wax the night before to remove any dead skin cells. Also, make sure the hair you want to be waxed is long enough to effectively be removed and free of any skin irritation. To minimize irritation and redness after your waxing treatment, avoid direct sunlight or apply sunscreen.
The K Spa, an extension of Kalos Plastic Surgery, understands that waxing can be uncomfortable and are there to make sure you are as comfortable and relaxed as possible during your treatments. Dr. Benjamin Stong is a dual board-certified plastic surgeon and oversees all cosmetic treatments. If you are in the Atlanta or surrounding areas, K Spa's team of professionals and aestheticians use the highest-quality products and most effective techniques to ensure your skin is summer ready!
Contact The K Spa today to start your shave-free journey.
Posted on behalf of The K Spa
371 East Paces Ferry Rd, Suite 850
Atlanta, GA 30305
Phone: (404) 549-3503