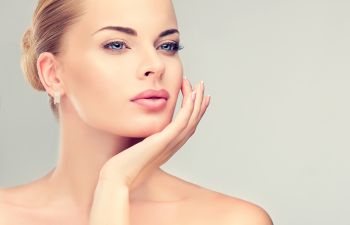 While platelet rich plasma (PRP) treatments have given rise to names such as the Vampire Facial or Dracula Therapy, not to mention the blood-based facial that Kim Kardashian tried, its methods are far less sinister. In fact, these injections, rich in growth factors and bioactive proteins, are the secret behind many of today's freshest faces.
In short, platelet rich plasma (PRP) is the composition of an individual's own blood. For instance, when a patient visits the surgeon, he/she takes a sample of their blood, similar to the amount taken during a routine blood sample. The blood is then processed or spun in a centrifuge in order to separate the blood platelets and PRP from the rest of the blood. Essentially, the concentration of platelets is tripled during this process, which takes no less than 20 minutes. The platelet rich plasma is then injected back into the patient's skin, concentrating on specific areas that patients want to appear youthful, full or plump. While PRP injections have been used over the years to treat sports-related injuries, specifically tendon injuries, the ability of activated blood platelets to rejuvenate, restore and repair skin tissues have made this treatment a highly effective anti-aging treatment. Perhaps the best part is that these injections utilize a patient's own body and blood to encourage healing and ultimately beauty.
For patients receiving PRP facial treatments, they can expect a natural radiance and youthful glow that builds with time. Whether they have fine lines and wrinkles, skin texture concerns, acne scarring or if they are hoping to avoid synthetic fillers and other chemical substances, these platelet-rich treatments are a natural way to turn back time and boost tired-looking skin.
Fulfill Your Unique Aesthetic Goals at The K Spa – Atlanta
With a strong vision for helping patients fulfill their unique aesthetic goals, Dr. Benjamin Stong founded The K Spa, a medical day spa and extension of his esteemed Kalos Facial Plastic Surgery center in Atlanta. Boasting the latest in facial rejuvenation, every service at The K Spa is backed by Dr. Stong, including platelet rich plasma treatments.
For more information about the revolutionary appeal of PRP facial treatments or another service at The K Spa, call today!
Posted on behalf of The K Spa
371 East Paces Ferry Rd, Suite 850
Atlanta, GA 30305
Phone: (404) 549-3503