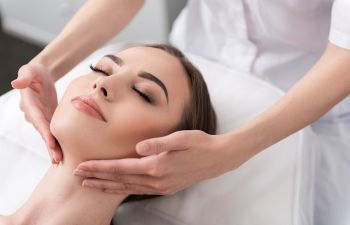 This has been quite the year for most of us. Like an emotional rollercoaster ride, 2020 has kept us in suspense as to what is going to happen next for months. Uncertainty still looms ahead and so does the holiday season. No one knows exactly what that is going to look like, but chances are it will still be hectic in one way or another, as it usually is this time of year. What better way to head into this season than with a relaxing day at the spa?
Rejuvenate with a K Spa Facial
When was the last time you took a moment to indulge yourself in some relaxing quiet time? If it has been a while – even if it has not been a while – consider coming to The K Spa where our professionals will pamper you and send you off on a relaxing journey with one of our amazing facials.
Using high-end products and techniques sure to relax and rejuvenate you, body and mind, the professionals at The K Spa can help you release the tensions of the last several months and start fresh again. You will have smoother, healthier-looking skin as toxins are removed. Beneath those layers of dead skin cells is a fresher looking you ready to glow. Let our professionals bring it out.
A Personalized Pamper Session
The K Spa never takes a one-size-fits-all approach to skin care. Your treatment will be customized for your skin type. The excellent care we provide will make you feel special and pampered. The K Spa is known for its superior patient-centered care and attention to the little details that can make all the difference in the world.
It may seem a little strange to go to a plastic surgeon's office for a facial. When you experience what we have to offer, this will be the only place you will want to have your skin care treatments performed. Come and experience the exceptional care we provide and prepare to enter the coming holiday season relaxed and glowing.
Posted on behalf of The K Spa
371 East Paces Ferry Rd, Suite 850
Atlanta, GA 30305
Phone: (404) 549-3503