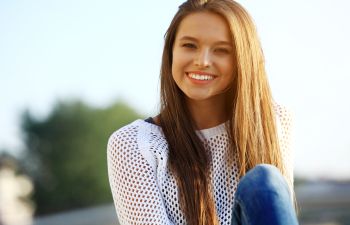 Your skin is your largest organ and is affected by seasonal changes. Autumn may bring cooler temperatures, but it can present its own issues for your skin. Here is how to protect your skin and keep it healthy as we prepare for colder weather. 
Keep Your Showers Cool
Did you know that hot showers strip your skin of protective natural oils? Pair hot showers with autumn's cooler temperatures and lower humidity, and your skin can become irritated. Take lukewarm showers and use moisturizer on damp skin to hold in moisture.
Don't Skip Moisturizer
Since cooler temperatures mean long pants and sweaters, it may be easy to forget this step. Lower humidity can sap moisture from your skin, so make sure to replenish daily with a high-quality moisturizer. Oil-based products do a better job than water-based, so check your moisturizer's ingredients list.
Don't Forget Sunscreen
This is another thing that is easily forgotten, since we are not in the hot sun during these months. However, UV rays are still present, even when the sun doesn't seem so intense. Sunscreen protects against these harmful rays and will keep your skin safe and younger-looking.
Stay Hydrated
Be sure to keep up with your water intake during autumn. Also, a humidifier can help combat dry air when inside. Essential oil diffusers can add much-needed moisture while adding a pleasant scent to your room. 
Eat Healthy Foods
This is a good tip for any time of year, but fall festivals, tailgating and other autumn activities usually mean lots of treats! Avoid high levels of processed and sugary foods to keep your skin healthy.
Exfoliate
If your skin is dry, dead skin cells can build up, making it more difficult for moisturizers to penetrate. Regular exfoliation removes these skin cells so you can hydrate more effectively. 
Take Care of Your Hands
Regular hand washing has a drying effect on your hands which is amplified in cooler weather. Use a hand cream after each hand wash to keep the skin on your hands supple.
Autumn is a wonderful time of year, and if you follow these tips, you will have glowing skin all year round. The team at The K Spa can suggest the perfect products for your skin to make you look and feel younger. Contact our offices to schedule a consultation today.
Posted on behalf of The K Spa
371 East Paces Ferry Rd, Suite 850
Atlanta, GA 30305
Phone: (404) 549-3503