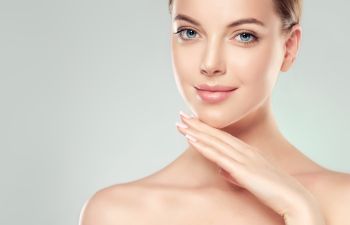 We all want to put our best face forward, but if you have developed a double chin, chances are you try to avoid showing it as much as possible. You wear turtlenecks, avoid the camera and you may still feel all eyes are on it. There are many causes of double chin, but fortunately, there are also ways to get rid of it.
What Causes a Double Chin?
There are several factors at play when it comes to a double chin.
Weight gain – when we put on extra pounds, the excess fat is stored in all areas. For some of us, that means in our chin. A high calorie diet of processed foods can also contribute.
Age – Skin becomes less elastic as we age and can appear saggy.
Genetics – Yes, sometimes you can blame your genes. If you have a family history of double chins, your chances of developing one increase.
Poor posture – Poor posture can cause the muscles in your neck to become weakened.
Treatments for Double Chin You Can Try at Home
Some people who suffer with a double chin have tried the following at-home treatments. The results of these vary.
Face masks that help tighten the skin
A low-calorie diet full of foods with a high water content
Facial exercises
Professional Double Chin Treatments
Dermatological advancements have developed treatments for double chin that can help you avoid a surgical procedure. Dr. Benjamin Stong and his experienced team can explain to you all the available double chin treatments and help decide the perfect solution for you.
You have options when it comes to double chin treatments, so there's no reason to wait. Dr. Stong is a dual board-certified plastic surgeon with the expertise you need to get the results you want. Contact the K Spa today to schedule a consultation.
Posted on behalf of The K Spa
371 East Paces Ferry Rd, Suite 850
Atlanta, GA 30305
Phone: (404) 549-3503