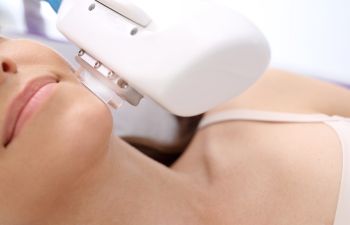 As part of a modern day approach designed to transform a red, blotchy, sun-damaged complexion into a radiant one, Intense Pulsed Light (IPL) treatments represent gentle skin rejuvenation at its finest. Also referred to as a photofacial or "fotofacial," an IPL procedure emits intense pulses of light that penetrate into the deeper layers of skin, without damaging the outer, epidermal layer. In doing so, blood vessels beneath the skin constrict to minimize redness and age-related fine lines and wrinkles, while addressing hyperpigmentation issues, enlarged pores, tiny spider veins, sunspots and freckles. Meanwhile, the light signals the body's production of collagen, while naturally fills in wrinkles for a smooth, supple complexion. An IPL Photofacial is an ideal solution for individuals with light, untanned skin, as well as those with rosacea, as reported by DocShop.
Given the popularity of cosmetic laser treatments for the face, many wonder how an IPL treatment compares to procedures such as laser skin resurfacing. To begin, an IPL treatment is non-invasive and non-ablative. This means that no skin is removed during the procedure. This is an important benefit, as the procedure is quick enough to be considered a lunchtime treatment, requires zero downtime and poses very little risk or discomfort to patients. Though multiple treatments (3-5) are necessary to achieve optimal results, IPL treatments are an appealing solution for many seeking to refresh and revitalize their appearance.
On the contrary, laser skin resurfacing is geared towards more significant skin problems, some of which include deeper skin wrinkles, acne scarring and severe sun damage. As such, this procedure involves removing fine layers of skin with a laser. While it is a highly effective treatment for some candidates, it involves a longer recovery period.
Advanced Laser Options Supervised By Dr. Benjamin Stong, A Dual Board Certified Facial Plastic Surgeon
At The K Spa in Atlanta, Georgia, patients benefit from the vast experience and medical supervision of leading facial plastic surgeon, Dr. Benjamin Stong. As a dual board certified facial plastic surgeon, Dr. Stong develops customized treatment plans that suit a patient's unique preferences and timeline.
To schedule an appointment, contact The K Spa today.
Posted on behalf of The K Spa
371 East Paces Ferry Rd, Suite 850
Atlanta, GA 30305
Phone: (404) 549-3503