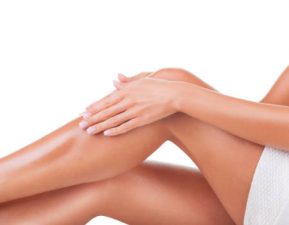 Capillaries and veins are both types of blood vessels in the circulatory system. At times these blood vessels appear close to the skin surface and become visible. They will vary in shape, size, and volume. Aging, genetics, and sun-damaged skin could be causes to the visibility of these blood vessels. These blood vessels can burst or become broken resulting in telangiectasias or spider veins. Telangiectasias are the tiny blood vessels that cause threadlike red lines or patterns on the skin.
These blood vessel clusters are commonly found in areas around the face, legs, and chest. Laser skin treatments will target these broken veins and capillaries. The laser targets the blood vessels under the surface of the skin and shrinks the blood vessel so that it is not visible leaving the surrounding tissue undamaged.
Steps to Keep Your Veins Healthy
Here are some tips to help the health of your veins once you have treated your telangiectasias and to prevent new ones forming:
Exercise
Be aware of your weight and diet
Watch what you wear
Elevate your legs
Avoid standing and sitting for long periods
Broken Vein and Capillary Treatments at The K Spa
The K Spa team led by dual board-certified facial plastic surgeon Dr. Ben Stong offers several laser treatments that can reduce or eliminate the appearance of spider veins and broken capillaries. They will go over your aesthetic goals and any questions you may have before deciding on your treatment plan. Because each patient is unique, Dr. Stong and his team will customize a treatment plan unique to each patient.
If you are in Atlanta or surrounding areas, call The K Spa today to schedule your consultation and be on your way to improving the appearance of your skin.
Posted on behalf of The K Spa
371 East Paces Ferry Rd, Suite 850
Atlanta, GA 30305
Phone: (404) 549-3503