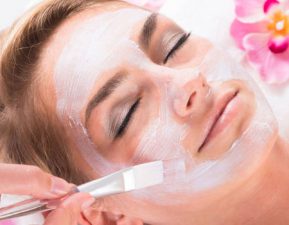 For some, it's hard to imagine that a lineless, flawless complexion is hiding beneath their tired, blemished skin. However, with the refined revival of a classic treatment, chemicals peels could be the secret to perfect skin, as told by Allure online. Perhaps this is why more people are seeking treatment with chemical peels than when they arrived on the scene in the late 90's. While glycolic peels of the past were often painful, new-age chemical peels are easily tolerated. In fact, a medium-depth peel provides impressive results (comparable to a superficial fractional laser)—at a fraction of the cost.
One of the greatest benefits of a chemical peel is that it lifts away the dead skin cells that inhibit great skin care. In other words, chemical peel treatments help skin-care products work better by allowing them to effectively penetrate the skin. In turn, they are an easy solution for all ethnicities, and patients needn't worry about developing hyperpigmentation. This is because chemical peels contain a unique blend of acids that are individually tailored for different skin conditions. For instance, a touch of vitamin C serum might be added to a lactic acid and trichloroacetic acid (TCA) combination. To combat troublesome brown spots, an element called Hydroquinone might be added.
When it comes to chemical peel treatments, it's clear that the right peel can produce the right results. The same is true for acne conditions, with specific pairings of salicyclic acid, lactic acid and resorcinol to clean out pores and refine the surface of skin. For pigment concerns such as Melasma and dark under-eye circles, a customized chemical peel with a small percentage of TCA and lactic acid has the power to brighten excess pigment beneath the eyes.
The K Spa Provides Custom Chemical Peel Treatments Guided By Dr. Ben Stong
At The K Spa in Atlanta, patients experience custom cosmetic solutions and treatments that are guided by dual board-certified facial plastic and reconstructive surgeon, Dr. Ben Stong. Though a chemical peel remains a classic treatment, Dr. Stong develops a unique cocktail designed to address the specific needs of each patient's skin. From brown spots and discoloration to boosting collagen, smoothing acne scarring and correcting sun damage from the sun, a chemical peel might be the solution to perfect your skin.
Call The K Spa today to schedule an appointment.
Posted on behalf of The K Spa
371 East Paces Ferry Rd, Suite 850
Atlanta, GA 30305
Phone: (404) 549-3503