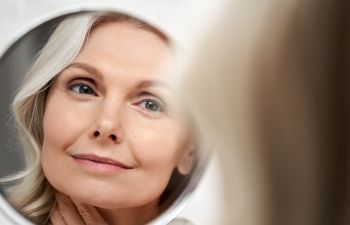 If you search for wrinkle or anti-aging skin treatments, you will likely see collagen mentioned in many aesthetic products and procedures. There is a good reason collagen is discussed so much when talking about aging skin. This protein is what gives your skin its soft, firm and supple appearance when you are younger, and it makes up almost 80% of the skin tissue. Collagen is one of the most important factors in youthful appearing skin, which is why it is a big deal in the cosmetic industry.
What Causes Collagen Loss?
Everyone is susceptible to a lower production of collagen as you get older. The body stops making it in such high abundance as early as your twenties. While each person may be different, it is estimated that collagen production is reduced about 1% a year. This means that by the time you are in your forties, you may be making 15-20% less collagen as you did in your twenties, impacting the firmness, volume and elasticity of your skin. Other factors that can lower collagen production include:
Sun exposure
Smoking
Poor diet
Health conditions
While you may not be able to control lower collagen production due to aging, there are ways to artificially increase your collagen. Boosting collagen in the skin can add firmness, volume and elasticity. This can help tighten the skin and diminish lines, wrinkles, blemishes and other aging skin issues.
Collagen Induction Treatments
Collagen is used to repair the skin when it is damaged. The most effective collagen induction treatments "wound" the skin without causing any real damage. This triggers the natural response to repair the skin, increasing collagen production. Some of the best options for collagen induction we use at The K Spa include:
Microneedling
Laser skin treatments
Radiofrequency (RF) treatments
Dermal injections (Sculptra)
Increasing the collagen production in your skin can reverse some of the signs of aging. Since it is a natural process, the results will look natural. The skin will slowly increase in volume and firmness after your treatments, helping you look more like your younger self.
If you want to explore options to stimulate collagen production in your skin, contact our aesthetic team at The K Spa. Call our office in Atlanta, GA to schedule your collagen consultation.
Posted on behalf of The K Spa
371 East Paces Ferry Rd, Suite 850
Atlanta, GA 30305
Phone: (404) 549-3503