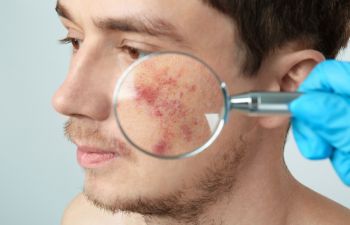 Most people are more than glad to get rid of acne once teenage years are long in the past. However, for a select few, acne continues into adulthood with no sign of abatement. The condition and the scar it leaves behind can impact aesthetics, but there are other considerations which should make you consider treatment.
Acne is typically associated with teenagers and young adults. In arenas and relationships where life experience is a valued commodity, adults with acne are often left behind. As you try to forge your way in the world, skin imperfections may create unsurpassable stumbling blocks. While attitudes to adult acne may be cruel and unfair, it doesn't change the fact that many sufferers are denied the same opportunities that are open to their peers.
Personal Relationships
Beauty is not in any way a necessary indicator of good character, yet each and every one of us is judged by our looks at some point. Acne may represent where your love interest draws the line when it comes to facial or body aesthetics, leaving you unfairly on the shelf.
Treatments such as laser therapy can remove acne and scarring, allowing those with low confidence to pursue those close connections. When looks are no longer a barrier to romance, you can spend more time concentrating on letting your personality shine.
Career Opportunities
You may have all the skills and experience in the world, but some employers may unconsciously discriminate based on your acne and how it makes you look. In some cases, adults with acne are considered too young for a role. In other cases, the business may require a particular look for a customer-facing representative.
The good news is, The K Spa in Atlanta, GA has a range of treatments that are targeted toward adults who are still struggling to keep acne at bay. Call today if you would like a consultation in Atlanta, Georgia.
Posted on behalf of The K Spa
371 East Paces Ferry Rd, Suite 850
Atlanta, GA 30305
Phone: (404) 549-3503