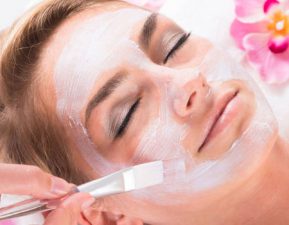 Even if you no longer experience active acne breakouts like you did when you were younger, you may be dealing with an uneven complexion. Over years of pimples, blemishes and blackheads, our skin can become scarred. Just as with any type of scar, they can be slow to heal and fade.
How do you reduce the appearance of acne scars? One of the most effective treatments is a medical-grade chemical peel. Your acne scar treatment may also help to fade away freckles and dark spots or even fine wrinkles.
What is a Chemical Peel?
An acne scar treatment chemical peel is performed by a trained and licensed professional. Depending on the depth of the peel you need, different chemicals will be applied to your freshly cleaned skin. The process is usually very quick.
These chemicals, in essence, wound the surface of the skin in a controlled way, removing several of the most superficial layers of skin. This forces the body to repair itself. As it does, you are rewarded with smoother skin and a more even complexion.
Depending on the depth of chemical peel recommended, you may experience dry and irritated skin for a few days, or you may need to rest for much longer as the skin rejuvenation process takes place. Be sure to ask about recovery time during your consultation.
Chemical Peels as Acne Scar Treatments
Acne scars are rarely as deep as it might seem. A peel works to reduce the appearance of these scars by removing the layers of skin with the most scarring, and then forcing your skin to rebuild with healthy, clearer and younger-looking skin.
While there are some cases when a chemical peel is not the best acne scar treatment, a chemical peel is widely regarded as the gold standard. Other options include laser skin treatments and microneedling.
The American Society for Dermatological Surgery suggests three types of chemical peels based on the severity of the scarring and the desired results. To find out if you are a candidate for this type of acne scar treatment, call The K Spa today to make an appointment.
Posted on behalf of The K Spa
371 East Paces Ferry Rd, Suite 850
Atlanta, GA 30305
Phone: (404) 549-3503