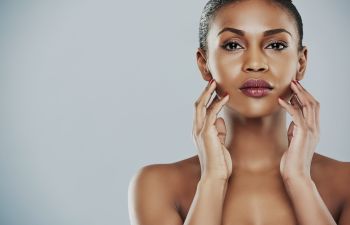 Given its constant exposure to facial and make-up products, environmental factors, as well as lifestyle habits, diet, genetics and stress, skin can appear dirty, dry and damaged. For instance, perhaps you've noticed a few breakouts recently, as well as flakiness and blackheads. Maybe you feel as though you need a new skincare regimen. While that might be true, there's one super effective exfoliating treatment that'll help you say goodbye to your dull skin—Dermaplaning.
As a form of mechanical-type of exfoliation, Dermaplaning removes dead skin cells, along with microscopic hairs or "peach fuzz." While it's an extraordinary treatment for dirty or dull skin, it also revitalizes sun-damaged skin, as well as skin with normal to dry fine lines and wrinkles. Using a sharp scalpel (and a very gentle, precise technique), the surface of a patient's skin is scraped in short, small strokes. While Dermaplaning may seem to be a fancy type of shaving treatment, the difference is in the level of exfoliation, as reported by Live About. In other words, Dermaplaning, when provided by an experienced plastic surgeon or physician, allows for a deeper plane of treatment, without damaging or irritating skin. To be clear, while one can safely shave everyday, one should not receive a Dermaplaning treatment everyday.
With this in mind, maybe you're wondering how Dermaplaning compares to Microdermabrasion. First, both services are similar in that they exfoliate and resurface the outer layer of skin. Both can provide a healthy, even and bright skin tone. Additionally, both require multiple treatments to achieve optimal results. Finally, both involve physically removing dead surface skin cells, and do not incorporate chemicals or solutions. Even so, microdermabrasion utilizes a vacuum-type of technique, and is a more aggressive treatment overall. Thus, for sensitive skin or for those with rosacea, Microdermabrasion is generally too harsh. In these cases, it is probably best to opt for a milder treatment found in Dermaplaning.
Experience Advanced Technique And Precision In Dermaplaning At The K Spa – Atlanta
An extension of Kalos Facial Plastic Surgery in Atlanta, The K Spa invites patients to experience the advanced technique and precision in Dermaplaning by double-board certified facial plastic surgeon, Dr. Benjamin Stong. Dr. Stong's extensive experience and distinguished skill in facial cosmetic services have helped many men and women achieve the healthy and supple complexion that they want and deserve.
To schedule an appointment, contact The K Spa today.
Posted on behalf of The K Spa
371 East Paces Ferry Rd, Suite 850
Atlanta, GA 30305
Phone: (404) 549-3503